City of San Jose Yard Trimming Guidelines and Rules – April 2021 Splasher by Annette Coffey, Don Hale, Sheryl Stroh
Spring is in full swing! As our gardens and yards bloom and grow, yard trimmings and refuse will increase (e.g., trimmed branches, grass clippings, leaves, flowers, etc.).
The City of San José offers two ways to collect yard trimmings:
Place your yard trimmings loose in the street (no extra charge).
Place in your optional yard trimmings cart for collection (for a fee).
Using a cart saves the homeowner from sweeping up after the trimmings are picked up from the street, you only handle the trimmings one time. This cart costs approximately $5.00 per month and comes in three sizes (32, 64 and 98 gallons). Call GreenWaste Recovery at (408) 283-4800 to order a cart.
Please follow these simple guidelines when setting out your yard trimmings:
Piles should be less than 5 x 5 feet and be placed at least 1 foot from the curb and 5 feet from carts, cars, and additional piles.
Branches should be less than 5 feet long and smaller than 6 inches diameter.
Yard trimmings carts and piles should be kept out of bike lanes and red curbed areas.
Per San Jose City Code, carts and/or piles should be set out no more than 24 hours before collection and no later than 6 AM on your collection day (Friday for our neighborhood).
Sweep up and remove yard trimmings that remain behind after collection; do not re-pile them. Residents can save trimmings for the next collection week or save for composting.
Remember to avoid parking on top of yard trimmings piles in the street and keep yard trimmings out of the garbage and recycling containers. This helps to prevent contamination of recyclables, especially paper.
For more information on yard trimmings and street sweeping, click on The City of San Jose website link below:
Thank you for maintaining our beautiful Shadow Brook Neighborhood!
---
Solar and Our Community – March 2021 Splasher by Annette Coffey, Don Hale, Sheryl Stroh
Solar panels are the wave of the future and present an attractive option for homeowners looking to harness the sun as a natural energy source.
Homeowner's associations have limited powers when it comes to solar installations due to the California Solar Rights Act enacted in 1978 and amended in 2015. Placement of the solar equipment is dictated by the orientation of the roof with regard to the available sunlight. However, HOA's are allowed to request minor changes to any solar installation for aesthetic reasons as long as the added cost does not exceed $1,000 or decrease the efficiency of the system by more than 10%.
If you are considering solar for your home, please:
Submit a Request Form describing your selected product, and
Submit a layout where the panels will be on your home.
Download SB ACC Request Form PDF.
Please reach out to us if you have any questions or concerns.
Maintaining Shadow Brook's Standards is Important to us all! – Nov/Dec 2020 Splasher
by Sheryl Stroh and Don Hale
Please volunteer to be a member of the Architectural Control Committee.
Your new Architectural Control Committee (ACC) convened in early September with three members, one of whom has recently resigned. We are finalizing revised ACC procedures to simplify the process and reduce individual ACC member's time commitments. Some of the responsibilities identified are to:
Work as a committee to review the ACC intake request forms from homeowners for new roofs, solar roofs, repainting, landscaping, and remodeling.
Review an assigned route of homes on a regularly scheduled basis
Identify visual issues that aren't compliant with the CCRs, Board Policies, ACC Rules or San Jose City Ordinances
Bring these infractions to the homeowner's attention
Follow up and monitor as necessary to reach compliance or impasse
Every homeowner receives significant, tangible benefits from Shadow Brook's reputation regularly confirmed by realtors when they refer in their listings in Shadow Brook as "one of the most desirable neighborhoods in our area." Maintaining standards helps protect and preserve values every day as evidenced when your home is appraised for either a sale or refinancing.
ACC team members have a critical role to ensure that Shadow Brook does not degrade. If no one comes forward, our ACC will be hard pressed to maintain the standards of the past 50 years.
Please consider joining us. In order to put into effect these new processes and procedures, we need at least two homeowners to volunteer. To learn more about this opportunity to help, please send an email to acc@nullshadowbrook.org.
ACC and Landscaping – October 2020 Splasher
by Don Hale, Cathy Sheehan and Sheryl Stroh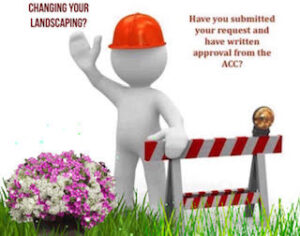 A beautiful  well maintained yard and home are mutually beneficial to each homeowner and to our entire neighborhood. To help preserve the high standards of Shadow Brook, there are provisions in our CCR's that apply, among other issues, to landscaping, driveways, fences and walkways.  A brief summary of these guidelines is below.
No completely bare soil or dirt.
No substantial areas of dead grass or weed patches.
No bare soil or dirt can be evident where decorative rock or bark is being used.
Landscaping should not obstruct the sidewalk, or street, either vertically or horizontally.
All fencing shall be maintained in a structurally sound condition and the color, style and material must be approved by the ACC.
No driveway or entry walkway may be surface-painted any color.
Integrated color concrete driveways and entry walkways may be allowed if approved by the ACC.
Any landscape lighting other than traditional low voltage landscape lighting is to be approved by the ACC.
Weed block material is to be covered completely such that it does not show through the landscape material (e.g. decorative bark, mulch, rocks or grass).
Parking strip (area between sidewalk and street) is to be maintained on all sides of property that have a parking strip— even if it's on the other side of your fence.
Please remember, if you are making any significant changes to your front landscaping plan — tree removal, drought landscaping, fencing changes, hardscape modifications or additions, major change to your current plan — you need to submit an ACC request form. This form should be accompanied by  a diagram of your proposal including measurements if applicable. That form, as well as detailed information on the above referenced items can be found at https://www.shadowbrook.org/acc/   We encourage you to check out the new information we have in our ACC tab. We have added information and links from the City of San Jose that could be helpful as you plan your project. All  proposals must comply with City Code.
We walk through our neighborhood doing property checks. If you see someone with a clipboard, binder or iPad, come out and say hi. We'd love to meet you!
ACC Improving your Home Value -What is  the ACC – September 2020
by Don Hale, Cathy Sheehan and Sheryl Stroh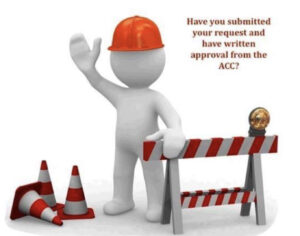 What is the ACC?  It is the Architectural Control Committee! It consists of three of your neighbors backed by the duly elected Board of Directors.  It is their responsibility to enforce the Shadow Brook Homeowners Association's Covenants, Conditions, and Restrictions (CC&Rs). These are mutually beneficial rules designed to protect the owners of Shadow Brook homes.  Enforcement of these CC&Rs ensures the appropriate maintenance of our properties and enhances the value of all our homes.  It is the goal of the ACC to be open, friendly and transparent and make this a better neighborhood for all of us.
Over the 50 years since Shadow Brook was designed and developed, there have been many changes.  Roofs are no longer wood shake; but they have been replaced by improved and more sustainable roofing materials that maintain the original look of Shadow Brook.
As climate change brought long term drought to our area, we have modified landscaping rules to allow and encourage drought tolerant plants.  Updated paint colors still strive to maintain the original feel of our neighborhood.  (continues on page 2)
We are sure that many of you have looked at other  neighborhoods near Shadow Brook and have seen RV's parked in the street, cars being dismantled and worked on in the driveways, cars parked on what used to be a lawn, lawns dead or dying with not much left than dirt and weeds,  or even neighborhood houses replaced by McMansions.
Your ACC is here to make sure that Shadow Brook does not start to degrade and continues to be one of the most desirable  neighborhoods in San Jose. If you have any questions or concerns, please reach out to us at acc@nullshadowbrook.org.
If you are planning to do any exterior remodeling, new construction, landscaping, exterior painting, etc., please contact your ACC to get approval.
---