Shadow Brook's COVID – Safe Halloween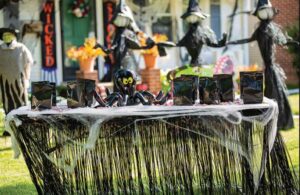 Are you giving out Treats for Halloween this year?  In keeping with CDC and local health department recommendations rather than going door to door they suggest that you lay treats on a table on your driveway, avoiding bowls and portion out pre-wrapped candy / treats.
Please wear masks and gloves when handling treats and table spread.  Keep a safe distance from trick or treaters avoiding contact and wear a mask.
Trick or treat with your family or your Quaranteam only. Travel with hand sanitizer and keep a safe distance from other Trick or Treaters.  Do not ring door bells or knock on doors – houses participating should have treats on driveway