This Social Corner page will feature your beloved recipes that you wish to share with your neighbors.  If you have a favorite recipe you wish to share, please send it to social@nullshadowbrook.org.
Classic Mulled Wine

(Nov/Dec 2020 Splasher) – from Meera Desai
INGREDIENTS
1 (750 ml) bottle of dry red wine
1 orange, sliced into rounds (also peeled, if you would like a less-bitter drink)
8 whole cloves
2 cinnamon sticks
2 star anise
2–4 tablespoons sugar, honey, or maple syrup to taste (or your desired sweetener)
optional add-in: 1/4 cup brandy (or your favorite liqueur)
optional garnishes: citrus slices (orange, lemon and/or lime), extra cinnamon sticks, extra star anise
DIRECTIONS
Combine ingredients. Combine all ingredients in a saucepan and give them a quick stir.
Heat until the wine just barely reaches a simmer over medium-high heat.  (Avoid letting it bubble — you don't want to boil off the alcohol.)  Reduce heat to low, cover, and let the wine simmer for at least 15 minutes or up to 3 hours.
Strain and season. Using a fine mesh strainer, remove and discard the orange slices, cloves, cinnamon sticks, star anise and ginger.  Give the mulled wine a taste, and stir in your desired amount of extra sweetener if needed.
Serve warm in heatproof mugs, topped with your favorite garnishes.
Pumpkin Angel Food Cake


(October 2020 Splasher) from Sharon Pope
INGREDIENTS
1 cup canned pumpkin puree
1 tsp vanilla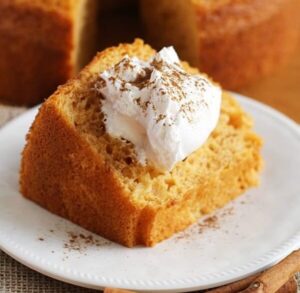 1 and 1/2 tsp of pumpkin spice
OR
(1/2 tsp cinnamon
1/2 tsp nutmeg
1/8 tsp cloves
1/8 tsp ginger)
1 package angel food cake mix
Cool Whip for topping (optional)
Grated walnuts (optional)
DIRECTIONS
Heat oven to 350 degrees
Combine pumpkin and spices in large bowl and prepare cake mix using box directions in another bowl
Fold a quarter of the batter into the pumpkin mix. Gently fold in remaining cake batter.
SPOON into ungreased tube pan (not a fluted BUNDT pan) bake for 40-45 minutes or until golden on top.
Serve with Cool Whip, and walnuts if desired.
Pumpkin Spice Mousse
(September 2020 Splasher) – from Meera Desai
INGREDIENTS
1 (3.4-oz.) package instant vanilla pudding
1 tsp. pumpkin spice
1/2 tsp. cinnamon, plus more for garnish
1/2 tsp. kosher salt
1 (15-oz.) can pumpkin purée
2 tbsp. maple syrup
1/2 tsp. pure vanilla extract
1 cup whole milk
1 1/2 cup heavy cream
DIRECTIONS
In a large bowl, whisk together pudding mix, spices, and salt. Add pumpkin, maple syrup, vanilla, and whole milk and beat with a hand mixer until smooth.
In another large bowl, whip heavy cream until stiff peaks form, 3 to 4 minutes. Fold two-thirds of the whipped cream into pumpkin mixture until smooth. Spoon or pipe into serving dishes and top with remaining whipped cream. Garnish with a sprinkle of cinnamon and serve.
---