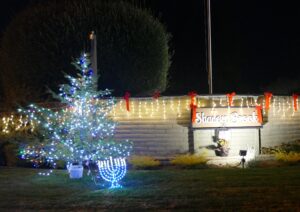 As I talk to neighbors during walks through our Shadow Brook neighborhood, everyone is commenting on the many lovely light displays throughout our neighborhood.  Ranging from a simple string of lights to wildly brilliant explosions of light, Shadow Brook is really ringing in the season this year, a year in which we all need that mixture of merriment and tradition.
All of these excellent displays made it hard to select the winners of the First Annual Shadow Brook Holiday Lig
hts Contest.  But we were able to narrow it down to  two contest winners, two Honorable Mentions and a Holiday Street award.   Plus we had many of our neighbors submit their vote for the People's Choice Award.  And we added a special award for the Best Lighted Street.  Even our own Cabana Club was shining brightly thanks to our Social Committee work.
Judge's Choice of the Best Holiday Lights:
These two homes were selected by the Board Judges as the two best Holiday Lights display in Shadow Brook
6667 Bret Harte Drive

Best Holiday Lights
6784 Heathfield Drive

Best Holiday Lights
People's Choice Holiday Lights Winner:
This home was selected by votes from your neighbors as to the house with the best Holiday Lights Display
6652 Charter Oak Place

People's Choice Award
Honorable Mention Holiday Lights:
The Board Judges felt that while these two homes did not win the Best Holiday Lights Contest, they certainly deserved an Honorable Mention.
| | |
| --- | --- |
| 1030 Shadow Brook  | |
| 1089 Hedgecroft Place | |
Special Award for Best Lighted Street:
The Board Judges were very impressed with this street, not only by the almost complete participation by all the streets, but also the quality of the displays.
Other Shadow Brook Holiday lights:
This is just an example of the excellent Holiday Lights Displays throughout our neighborhood.  So happy with festive nature of our neighborhood.  Everyone loves the flamingos on Summerleaf.
Click to see the Red Bows and Holiday Street Trees of Shadow Brook