Pink Pumpkins Pick Up at the Pool
The PINK PUMPKINS are back
On Sunday, October 17 between 5:00 p.m. and 7:00 p.m. you an pick up your Pink Pumpkin at the Shadow Brook Cabana.  Orders were placed by October 1.  You can pick up your pumpkin from the pink pumpkin patch or stay and decorate and add your personal touches (decoration supplies are provided).  Bring your friends.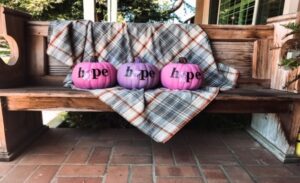 Remember that 100% of the proceeds goes to the Breast Cancer Care Center through the Auxillary of Good Samaritan Hospital (503e non-profit) to be used for awareness, prevention and treatment support for women in our local community.
Monthly Food Trucks November 10
The November 10 Food Truck Wednesday Night Social will be the last one for 2021.  So we hope you will come out and support these trucks.  The trucks will be parked on Orangebrick Way from 4:30 p.m. to 7:30 p.m. on the 10th.  The ordering links for the food trucks listed below will be posted to http://www.shadowbrook.org by Monday, November 8.  The favorite Falafel Fresh will be returning along with a new truck, Just Mix & Eat.
Food Truck Wednesday will return on January 12, 2022.
| | |
| --- | --- |
| | Falafel Fresh – Great Mediterranean food that has been loved by Shadow Brook. |
| | Just Mix & Eat – tasty Korean Bibimbap menu, Bibimbap anyone? Once voted one of the most delicious foods in the world by CNN, this rice and meat dish is the perfect palate pleaser. When you're craving gourmet Korean cuisine on the move, the two simple steps to take are Just Mix & Eat. This is traditional bibimbap, an amazing dish made with steamed rice, mixed veggies, and your preferred protein. |