Every month the Splasher will feature a "Street of the Month" in which you will find a short review of what makes that particular Shadow Brook street unique.  We hope you enjoy these little insights into areas that make up your neighborhood.  If you are interested in writing about your particular street, please send the information to Splasher@nullShadowBrook.org.
Charter Oak Place (September 2020) by Steve Ferree

Charter Oak Place is a Shadow Brook cul-de-sac of 13 homes that, along with some neighbors nearby on Bret Harte Drive are a Neighborhood Watch area.  Residents of Charter Oak Place range from some families that have only recently moved in to several who are original owners.  In "normal" years the community holds get-togethers approximately once a quarter to celebrate our neighborhood.  We all know each other on the block and watch out for each other, watching their homes when someone is gone, helping bring in trash cans and more.
Blue Mist Place (October 2020) by Tami Sell

Blue Mist Place is the only cul-de-sac off Heathfield Drive. This block has 9 homes. Its Neighborhood Watch area extends out onto 4 adjoining homes on Heathfield, and includes 2 original homeowners. Blue Mist Place has hosted a number of block parties in recent years. When a family is away on vacation, Blue Mist residents (Blue Misters) help watch over each other's homes, bring in garbage cans and pick up newspapers or packages. They all have each other's phone numbers to communicate if needed. Blue Misters feel grateful to live in a nice, safe, family-friendly community like Shadow Brook!
Creekview Court and Bubblingwell Place (Nov/Dec 2020) by Steve Ferree

Crrekview Court and Bubblingwell Place aree two streets off of Camden that you probably go by most days and never go in.  They are homes to 24 families in Shadow Brook.  Both streets were one of the first in

Shadow Brook to get into the San Jose Police Department Neighborhood Watch program, thus showing you a friendliness and cooperation that exists among the neighbors.
Nightfall Court (Jan/Feb 2021) by Steve Ferree

Nightfall Court is a quiet street off of Bret Harte Drive but it is a welcoming area with friendly active neighbors.  During the Holiday season the street was shining brightly with every home well lit for the season.  In the summer all of Shadow Brook shows up on Nightfall to enjoy July 4th celebrations.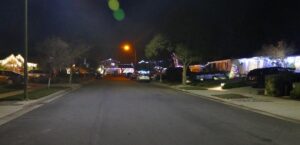 Marble Court (March 2021) by Steve Ferree

Marble Court is a pleasant cul-de-sac that is the first street to greet Shadow Brook visitors as the first turn off Camden onto Bret Harte.  Most of us drive by Marble Court daily.  It has thirteen families that enjoy the suburban life of Shadow Brook.  Marble Court is also a Neighborhood Watch zone.
Pebblewood Court and Pomander Place (April 2021) by Steve Ferree

Two quiet cul-de-sacs off of tree lined Summerleaf Drive in Shadow Brook are Pomander Place and Pebblewood Ct.  Here you will find five homes on Pomander and seven on Pebblewood.   These tree-lined streets are peaceful since they are not on any of the main through streets of our neighborhood.  Did you know that a Pomander is from the French pomme d'ambre, a ball made for perfumes and is worn of carried in a vase as a protection against infection in times of pestilence?