Deadline for ordering Holiday Trees extended to Nov. 3
Join the Red Bow Brigade
LIGHT UP SHADOWBROOK FOR THE HOLIDAYS!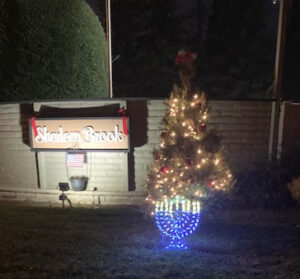 The Red Bow Brigade is getting organized and ready to work to make Shadow Brook a festive place again this year.  As you know from past years this group of your neighbors are the force behind two growing traditions in Shadow Brook.
First is organizing ordering and delivery of the famous front yard Charlie Brown neighborhood holiday trees!
This is our third year and we encourage you to join the more than 100 neighbors who ordered and decorated front yard trees last year for the holiday season. Light is an important component of winter holidays from Diwali through Lunar New Year.  The year 2020, where we are spending more time in our neighborhood and isolated, makes the small pleasures more meaningful.  I hope you will join in making your home brighter for your family, the confined senior across the street and those of us walking, running and biking the neighborhood.
The October Splasher will have an order form included with it this year and you need to get your orders back to Lydia McClure by November 3.  You can also download a copy of the 2020 ShadowBrook_Holiday_Tree order form here.  The trees will be delivered on December 2. Let's all get our orders in soon and add even more trees to our neighborhood during this highly unusual 2020.
The tree is a 5-7 foot fresh Douglas fir lightweight yard tree from Washington state.
Last day to order tree(s): October 30th
$20.00 Cost of tree includes zip ties
$27.00 Cost of tree, zip ties and 6 foot rebar stake
Delivery: Thanksgiving weekend thru December 2nd
Volunteers are needed to act as block leads, pickup delivery drivers in neighborhood, tree stakers and decorators (if required.)
The second activity of the Red Bow Brigade is to put up the Red Bows on every street in Shadow Brook.  This is our 5th year for the Red Bow Brigade and has been welcomed by our neighbors every year. Please volunteer to help hang the red bows by 12/1/20.
If you are new to neighborhood or have any questions, please text/ call Lydia McClure (408)-472-1497, Cathy Sheehan (408)761-0193 or Colleen Kimmel (408)644-5004