Shadow Brook is famous for its many social events during the year, including Memorial Day Picnic, the fabulous 4th of July events, Labor Day, Wednesday Night Socials, and many more.  
Check the Shadow Brook app and web page for details on Upcoming Social Events.
Easter Egg Hunt at the Shadow Brook Cabana
April 2022
Shadow Brook Holiday Lights Contest Winners
December 2021
Wow, Shadow Brook was very well lit up this year with many homes throughout Shadow Brook showing off their lights.  But the Board and the Members were able to select the winners for this year's Shadow Brook Brook Holiday Lights Contest.  In addition to the great decorated homes this year, there were also many showing off their holiday trees throughout the neighborhood, and we all love the red bows attached to every tree, light post and bush around our neighborhood.
Again this year we had two Shadow Brook homes that the board felt were the best decorated and lighted homes.
6774 Bret Harte Drive
We all loved the star and lights of this home, be sure to stop by and enjoy their lights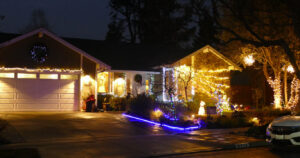 965 Summerleaf Drive
This home is beautifully decorated with many lighted characters in front.  We loved the snowman.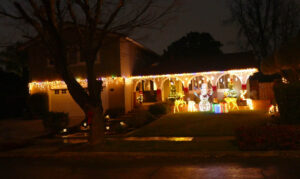 The People's Choice award this year went to 6744 Heathfield Dr.  with lights hanging in every tree and bush.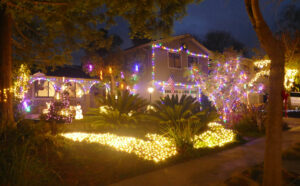 Honorable Mentions
1089 Hedgecroft Place
Giant inflatables in front and back welcoming in the season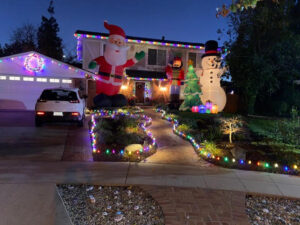 6704 Bret Harte Dr.
Creativity shines here with their own desert motif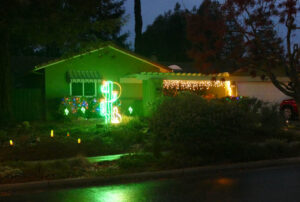 Best Decorated Street this year goes to the southern end of Heathfield Drive.  You have to drive down this street starting at Shadow Brook Drive taking in all the lights and creativity shown by your neighbors.
4th of July
Here are a few pictures from previous 4th of July celebrations for you to enjoy and remember.